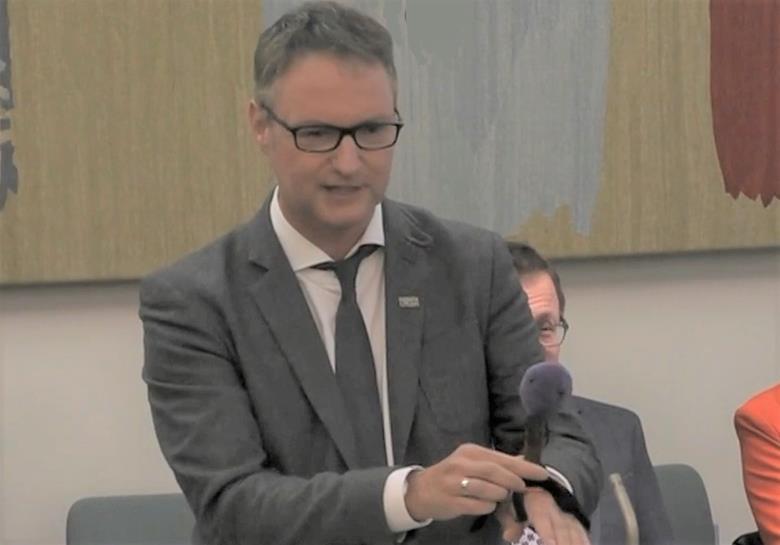 On Thursday 13 October 2022, I was contacted out of the blue by Dr Paul Sainsbury, Director of Communications and Business Development at AMI.
Paul had just found out that an idea submitted to the Science and Technology Committee's 'My Science Inquiry' (and suggested by AMI's incoming president Jack Gilbert) had just been shortlisted from over 90 ideas for new inquiries to the final six.
The My Science Inquiry initiative called for the public to submit 200-word suggestions on what the Committee should investigate next. AMI's idea for the inquiry focused on 'Barriers to the therapeutic use of bacteriophages in the UK', and all six successful applicants were expected to pitch their proposed inquiry to a cross-party panel of MPs who sit on the Committee.
The problem was that Jack was in San Diego and the date for the pitches was set for the following week. This explained the sense of urgency in finding an alternative phage specialist to step in and deliver the pitch, else the opportunity would be lost.
Having previously written an article for The Microbiologist in 2019, 'Tackling sources of contamination in water: the age of phage'), I found myself in the crosshairs and opportunity came knocking. A late great friend of mine and my former PhD supervisor (Prof. Huw Taylor) once offered me some sage life advice, which involved 'doing something scary every week'.
With this in mind, I thought about it for about 20 minutes before agreeing to pitch the idea to the committee. However, if I was going to do the pitch justice I'd first need to work through the weekend and call in a few favours to cover my teaching. I set about reading up on current and previous inquiries, researching legislative drivers and good practice from other fields and from elsewhere in the world. Then I scared the wits out of myself by watching previous 'My Science Inquiry' pitches on the Parliament Channel!
I arrived at Portcullis House early on Wednesday 19 October and was greeted by Dr Lucky Cullen (AMI's Policy, Public Affairs and Diversity Manager), who offered much needed moral support. Also with me was a T4 phage I'd manged to get through security, and which was going to come in handy during my pitch.
We shuffled in and took our seats and delivered our pitches, which were followed by questions from the panel members. I then went off to watch a very lively and boisterous PM's questions.
Maybe going in front of the Committee wasn't so bad after all! Giving the pitch was not only a fantastic and thoroughly enjoyable experience, but also a rare opportunity to potentially steer the gaze of MPs, parliament, and government towards novel and emerging areas of research.
So, if anyone reading this has a killer idea for an inquiry then I would strongly recommend applying to future calls. Whilst a very different experience to presenting to academics, committee members asked some insightful questions and were keen to know how the pitch related to their constituents.
Our pitch was selected as the winning My Science inquiry idea and formally launched on 14 November 2022. Further details about the phage inquiry can be found here: https://committees.parliament.uk/work/7045/the-antimicrobial-potential-of-bacteriophages/events/all/
Committee Chair Rt Hon Greg Clark MP said, 'I want to thank everyone who submitted an idea as part of the My Science Inquiry call for ideas. We were really impressed by the calibre and range of the submissions…The Committee looks forward to exploring the potential of bacteriophages in tackling antimicrobial resistance.'