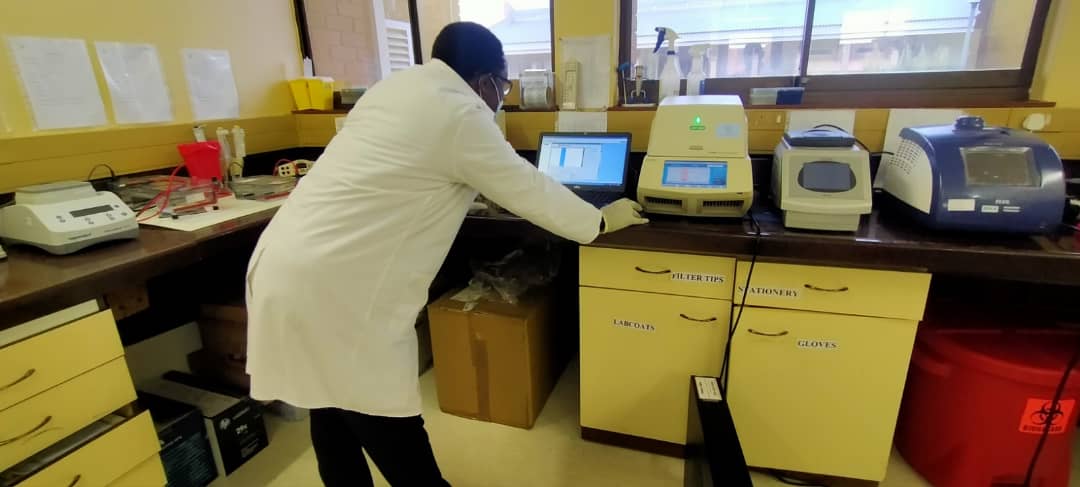 Arriving in Gaborone, Botswana from the tropical warmth of Nigeria for my first visit was a shock. I had arrived in the depths of an African winter for which I was totally unaware and equally unprepared. Equipped with a hurriedly purchased body warmer I was ready to meet the team from the Botswana National Veterinary Laboratory (BNVL), headed by Dr Chanda Marobela-Raborokgwe, with whom I would spend the next 10 days courtesy of the AMI's Professional Development Grant.
My main objective was to see the work of a World Organization of Animal Health Reference Laboratory (OIE) for Contagious Bovine Pleuropneumonia (CBPP), a serious respiratory disease of cattle caused by Mycoplasma mycoides subsp mycoides. Although eradicated from cattle-rearing countries around the world, this transboundary disease was still plaguing at least 25 countries in sub–Saharan Africa including my home country Nigeria. Botswana had had a serious outbreak of CBPP in the mid- 1990s but managed to eradicate it by movement control, quarantine and culling of large numbers of cattle to prevent spread into the main farming area in the south of the country. Regular diagnostic screening, research and other services had kept the country CBPP-free since then and enabled their lucrative export trade in beef meat with the EU to continue.
In the last few years, thanks to a grant from the Gates Foundation administered by Edinburgh University, I had established a Mycoplasma Diagnostic and Research Laboratory for animal mycoplasma diseases including CBPP at the University of Ilorin in Kwara state; the laboratory was commissioned by the deputy vice chancellor in 2020. As a result, I was anxious to establish collaboration with a centre of excellence in Africa to improve my knowledge and capabilities.
Following graduation in veterinary sciences in Nigeria, I completed a PhD on the role of mycoplasmas in sexually transmitted diseases in the USA before working in the UK for Public Health England and Edinburgh University. I am presently a senior lecturer in microbiology and acting head of department in the Faculty of Veterinary Medicine at the university where I specialize in mycoplasma diseases. The opportunity afforded to me by SfAM with this award will enable me step up my research activities and eventually to assume a reference status for CBPP in my region. Hopefully, it may lead to acquiring more equipment and materials for PCR assays in my laboratory
The BNVL is staffed by well-trained microbiologists, veterinarians and technicians, many of whom have trained in Europe and the USA, delivering quality scientific services for both human and animal health. The laboratory was very well equipped with equipment and reagents devoted to the diagnosis of specific diseases in particular CBPP and the closely related disease of goats, contagious caprine pleuropneumonia (CCPP) using a whole range of diagnostic methods including serological methods such as complement fixation test and real time and multiplex PCRs backed by restriction enzyme assays to differentiate mycoplasma species. Data capturing strategies are maintained by well-designed forms and laboratory protocols which are regularly revised and validated through proficiency tests as well as calibration of equipment to ensure standardised results.
At any time at the BNVL, there are staff undergoing training and working on their bench work such as those going through their masters, PhD and been supervised by senior ones in collaborations with their supervisors at different universities in Africa and even beyond. I met a student from Tanzania undergoing her research masters just at the proposal stage and undergoing some laboratory training in preparation for her bench work. Worthy of note was the fact that there were no power cuts in Gaborone during my 2-week stay, in contrast to what I am experiencing back home. A stable power supply is of course crucial for accurate diagnostic test performance using sensitive and sophisticated equipment and to preserve the viability of stored biologicals and reagents.
While I had only recently established my mycoplasma laboratory in Nigeria, I was able to communicate my experiences of CBPP in a presentation to the BNVL staff, many of whom had never seen the disease in the field. We had robust interactions during the questions and answer sessions concerning diagnosis and control strategies. Nigeria certainly has a long way to go before it can begin to control CBPP in the way it did in the 1970s and 1980s when vaccine coverage rates were high. Since then, expertise has been lost and I'm trying to re-establish a reference laboratory to investigate the prevalence of the two mycoplasma diseases in my state and eventually nationally. This will enable us to select the appropriate control strategy. Collaboration with the OIE reference laboratory BNVL will facilitate this aim. While Botswana is well equipped, it lacks positive field material that Nigeria has in abundance. Exchange of these materials between our laboratories will be of mutual benefit. They have promised help with diagnosis and reagents and to furnish me with protocols for all aspects of the work while my own laboratory continues to develop. Furthermore, we will develop joint proposals for mycoplasma research extending this into other important areas like avian mycoplasmosis, which incurs huge economic costs to the poultry industry. We also discussed the impact of antimicrobial resistance in ruminant mycoplasma diseases which has not been explored recently for CBPP or CCPP despite the increasing use of antibiotics for controlling respiratory infections. Future work may involve carrying out in vitro tests to investigate the effectiveness of antibiotics on recent strains.
Another benefit from my visit was being made aware of and hopefully networking with organizations including the African union, International Atomic Energy Authority and ERFAN (Enhancing Research for Africa Network) which can all provide support for animal health control. This was an opportunity for me to meet with African veterinarians from other countries for the first time. We have started engaging in scientific discussions and comparing diseases of high priority in our countries and hopefully we can engage further in other research collaborations and networking and review of clinical cases together by sharing our ideas and experiences together electronically including zooming.
In conclusion, the visit to the BNVL was a very impactful venture greatly increasing my expertise and enabling the opening of several doors for my career progression in this specialized field of microbiology namely mycoplasmology. I want to sincerely acknowledge and present my appreciation to AMI for their grant of the award. Finally, my thanks go to my host Dr Chanda, Prof. Robin Nicholas who initiated and facilitated the visit and Prof Andy Peters for earlier funding to establish my laboratory and to my Vice Chancellor Prof. Sulyman Age Abdulkareem for all his support for my laboratory and for approving this trip. Finally, should I visit Botswana again in winter I will be better prepared.
Isaac Olorunshola