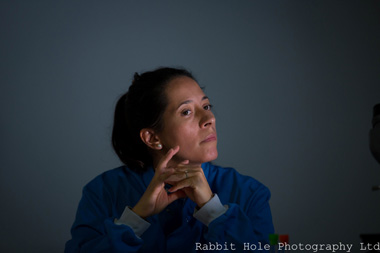 The activities described in this report were instigated by a joint research initiative between UCL, UCLH, ICH and GOSH, Precision AMR, to provide seed funding for research projects aimed at mitigating the spread of AMR infections in various settings. The Nosocomial Project (Dr Elaine Cloutman-Green, Nicola Baldwin & lay advisor Sue Lee) was asked to coordinate and support the research teams' PPI. Our own additional purpose was to raise awareness around AMR in the general public; we believed better community understanding of antimicrobial resistance was essential for any specialist interventions to succeed. Furthermore, many of the aims of Precision AMR required behaviour change – among patients, hospital cleaning and maintenance staff, A & E clinicians, public. We wanted to stage the Rise of the Resistance Festival aimed at both public and healthcare audiences, to encourage informed conversation. We applied to SfAM to support creative and engagement collaborations between artists, microbiologists, patients and public to be showcased in the festival.
As a result of Covid, many of the Precision AMR seed-funded projects were delayed by lab closures, or labs and personnel being reassigned. Research teams' intended PPI plans were affected by cessation of school visits, patient groups and science fairs. Rise of the Resistance Festival took over the Precision AMR PPI, and also provided a means to maintain contact among researchers, and target audience via online workshops for individual projects.
Project: RISE OF THE RESISTANCE FESTIVAL
Thanks to our funders including SfAM, we were able to stage two Rise of the Resistance festivals in 2021 – an online festival in June, followed by a hybrid festival online and livestreamed from socially distanced events in Bloomsbury Theatre studio, in September. From the outset, we identified our biggest risk to be reaching audiences. During lockdown this was a practical obstacle, but also a psychological one – who wants to engage with a looming health emergency while living through a different one? We decided to target our SfAM funding on communication in two areas.
Overall strategy for the festival's 'offer' to audiences
Enhancing the quality of individual projects to target different audiences.
Overall Strategy
SfAM funding allowed us to consult with an experienced festivals producer to identify audiences and increase participation. Secondly, to work with a virtual events designer to run our 'Front of House' for zoom events; managing the slides and streaming content, access and management of online workshops and meetings, breakout rooms, tech rehearsals etc, made events run smoothly. We also provided a short digital internship for a teenage kidney patient from Great Ormond Street Hospital to gain professional experience as a production assistant. 33% of their payment came from SfAM funding, to correspond to their participation on the Nosocomial film. We offered small commissions to artists and film-makers to create film projects for the festival in collaboration with healthcare scientists and researchers, or in response to AMR. The idea was to use human stories of health and illness to encourage conversations around AMR, or to adapt stories from healthcare science and microbiology contexts to present them in an accessible way, to increase understanding.
Individual Projects
Our artist commissioned films were used to generate panel discussions – in which Healthcare Scientists from different specialisms, and researchers, responded to individual stories in the context of AMR. Speakers included Dr Elaine Cloutman-Green and Professor Brendan Gilmore. The success of the first Rise of the Resistance festival online in June led to a second Rise of the Resistance Festival in September; a 'birthday' party celebrating the discovery of penicillin on 3 September. This was a hybrid festival with screenings and events livestreamed from Bloomsbury Theatre Studio. It was an opportunity to make and stage more ambitious new work, with participants – scientists and artists – who had become involved through the online festival.
The SfAM funding allowed us to work with a costume designer on Klebsiella, an opera singer on La Biotique, and to film our SfAM supported play Nosocomial on location – when real hospital locations were impossible. This improved the quality of all three films as a result helped them become the basis of live discussion events on AMR during the festival. Klebsiella is an outrageous drag character, accurately based on Klebsiella pneumoniae, and the film has surprisingly wide appeal with both microbiologists and other audiences; La Biotique updates an aria from Puccini's opera La Boheme from a seamstress dying of TB in 1830s Paris, to a migrant textile worker dying of drug resistant TB in contemporary London. The sold-out screening and discussion was attended by groups including Southall Black Sisters and Amnesty UK, and led to a fascinating debate on microbiology, and the human role in AMR. Nosocomial dramatizes healthcare science from the perspective of NHS lab scientists, and is based on verbatim stories of HCS themselves. The festival screening of the film led to further involvement of scientists in festival events.
Thus our SfAM funding enabled us to bring diverse Rise of the Resistance participants together in a live performance by actors and scientists: 'What Is AMR And What Can We Do About It?' combines drama and research presentations, and is intended as an introduction to AMR for general audiences. The film of our festival livestream has been used by universities and hospital trusts to screen to students and trainees.
Outputs and outcomes
Looking back over the project, we did everything we intended with the festivals although sometimes in radically different ways. Across the 2 festivals, the project comprised:
Rise of the Resistance 1, June 2021, online
Rise of the Resistance 2, September 2021, livestreamed from Bloomsbury Theatre
12 films by artists, 13 films by scientists, 4 zoom debates, three Q&As, a filmed tour and numerous zoom conversations and related video clips
500 people engaged directly with festival events online or in person
Partner organisations included the Grant Museum of Zoology, Cody Dock, Southall Black Sisters, Bell House literacy centre, GOSH School
PPI participants reported significant changes in their understanding of AMR
Scientists and researchers reported changes in their approach to PPI
Requests for Rise of the Resistance links and AMR content received from Hospital Trusts, charities, schools and nurseries for staff, patients, and pupils, including timetabled activities, continue to be received for 2022
You can watch these films at the links below:
Short trailer to all NOSOCOMIAL FILMS
Compilation – 9 Short Films on AMR (includes Klebsiella, La Biotique)
'NOSOCOMIAL' filmed version of Healthcare Science drama
'What Is AMR?'
Nicola Baldwin & Dr Elaine Cloutman-Green