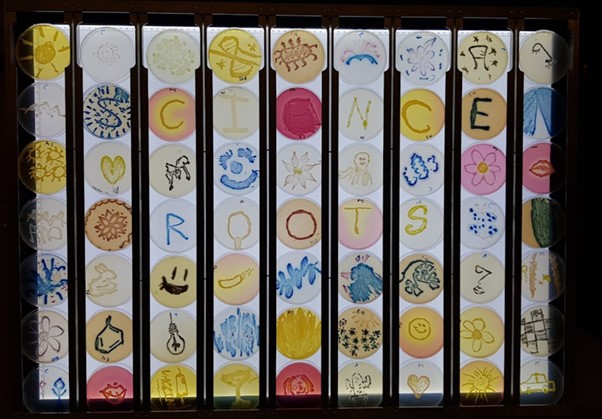 What does Science look like? Is it boring graphs, spreadsheets and stuck in the laboratories of university; or is it colourful, found everywhere anyone may be and beautiful? With support from a AMI Outreach and Engagement Grant we hosted a Live Lates event (an afterhours social event) at the Millennium Gallery, in the heart of Sheffield. Bringing science out of the lab and into the art gallery.
The aim of this event was to reach out to an adult audience from a wide range of different backgrounds, particularly those who would not normally attend a science focused event. We took the opportunity to showcase the beauty of microbiology through a range of different art forms, providing a visual gateway to science through hands on activities, a gallery of current research and a mini lecture series.
Centre stage to the event was an Artist in Residence Exhibition by Catherine Higham. In the weeks before the event Catherine had been into the microbiology research lab to find out more about the soil microbiome project. Her visit to the lab inspired her work for the evening which was projected onto the main wall of the gallery.
In the centre of the main gallery space, PhD and Masters students presented their research in the style of paintings in a gallery. Standing next to their images for some of the evening were the "Artists", talking to guests about their work. "It was really interesting to hear about what people thought my work was a depiction of before I explained it to them", Lucy Dascombe said about her micro-CT image of bones. "It gave me a perspective on my work in wider society, much more varied than the views and opinions I would normal have at a science specific event".
One of the main attractions of the evening was the After Dark Tent; a black out tent which was filled with luminescent agar art of students from all levels, from undergraduate to PhD. There was a constant queue to get it and find out the mystery of what was inside. Guests were allowed in 4 at a time and told all about the natural fluorescence and bioluminescence of bacteria and their symbiotic relationships in nature. From the exit questionnaire it was a firm favourite of the activities on the night.
The night also offered many chances for people to get hands on with both Art and Science. At the Building a Community stand, guests helped to mature our microcolony of knitted and crocheted bacteria into a woolly, mature, polymicrobial biofilm. Adding to the biofilm their own pom-pom bacteria or taking them home with them. Sarah Boyce a PhD student working on biofilm joint infections ran the stand; "It was a great evening, I got to combine my hobby of crochet with talking about biofilms and my research".
The Reinventing Life Drawing activity allowed people to investigate their own microbiomes. Guests were encouraged to swab a part of their body and then draw onto agar plates. The agar plates were incubated and shared on social media for people to see their live drawings. The creativity of some guests was brilliant and worth checking out on the @SHU.micro Instagram page.
Many guests enjoyed the Pastel Pathogens stand, where they had the opportunity to look down a microscope at a range of pathogens, creating a pastel picture of what they observed. The soil microbiome project also had a stand, where colour paintings made of the different components of soil were made. Many people listed these as highlights of their visit on the exit questionnaires, when asked what they found interesting about the evening comments included: "Using the microscopes!!!" and "I loved learning about the living things in our soils!".
A mini-lecture series ran though some of the evening with talks from academic staff and PhD students. "Explaining my research to a wide range of people was a great experience" said Alex Williamson, who talked about 3D imaging and micro-CT techniques he uses in his PhD. Other than Microbiology, other research areas got involved, people had the opportunity to make their own blood clots, create a model of bone structures and assemble, then devour, edible DNA made of sweets. The Millennium Gallery team also put on other activities as well, including exclusive tours of the exhibits and more hands-on experiences alongside a bar and an amazing cake stand meant that everyone who attended had a great night.
Over the course of the evening more than 300 people attended, there was a great atmosphere throughout, and many people said how much they had enjoyed the event on the night as well as in the feedback questionnaires. "It was nice to have my friends come along to a 'work' event and show them what I do, but in a really casual setting" said Lucy after the event. Alex said, "It was nice to talk to such a range of people about my research, there were so many different people. I spoke to post-docs, artists, writers, people who knew nothing about science and people who knew lots".
The evening was a success, with higher and a more diverse attendance than we have had at previous events. We showcased science as an art form and had a wonderful evening. "Thank you very much, I've had a lovely evening :)" – a comment on the feedback form.
Kelly Capper-Parkin
Sheffield Hallam University