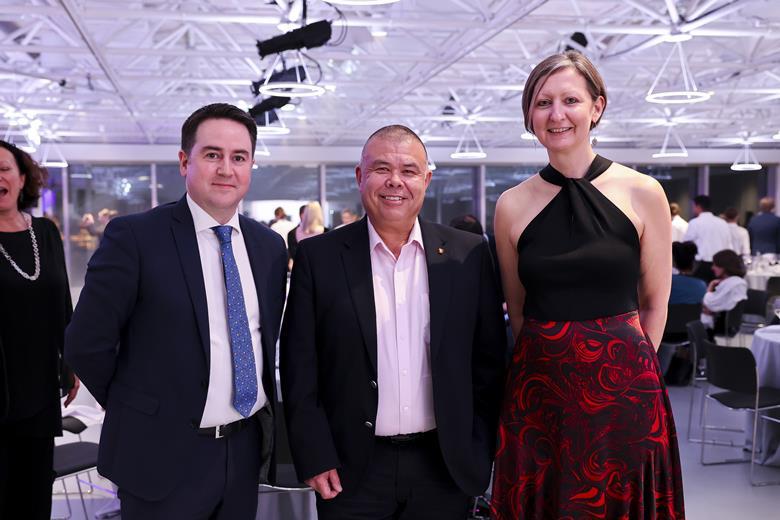 Organised by Applied Microbiology International (AMI), the awards celebrate the brightest minds in the field and promote the research, groups, projects, products and individuals who are shaping the future of applied microbiology.
The guest of honour was Professor Sir Jonathan Van-Tam MBE, Pro-Vice-Chancellor for the Faculty of Medicine & Health Sciences at the University of Nottingham who was named an Honorary Fellow at the prestigious event
The winners of the four awards categories were chosen from a hotly contested field featuring nominations from more than 30 countries across the globe.
More than 100 guests gathered at Illuminate at the Science Museum in Kensington for a networking drinks reception before taking their places for a three-course dinner with views across the London skyline.
In her welcoming speech, AMI's chief executive Dr Lucy Harper officially announced a major rebrand for Applied Microbiology International (previously Society for Applied Microbiology) following an intensive 12-month strategic review. The new brand reflects the organisation's status as a global community of microbiologists who have come together to advance scientific impact in the field.
Her speech was followed by an introduction to the awards programme by AMI president Professor Brendan Gilmore who compered the evening's celebrations.
Basil Jarvis Prize
The first of the awards was the Basil Jarvis Prize, which was presented to Tanushree Gupta, an AgResearch senior scientist based at the Hopkirk Research Institute in New Zealand, who had flown to the UK for the event with her husband Sandeep, a scientist who also works in animal health.
Named after Professor Basil Jarvis, a distinguished researcher in the field of food microbiology and a past President of Applied Microbiology International, this prize is presented to a microbiologist who has made a significant contribution to food safety, food fermentations and food security.
Tanu works in the space of dairy and meat microbiology, determining sources of pathogens and spoilage bacteria that reside in farms and can enter the food chain causing quality and safety issues. She is also exploring novel and natural ways for compounds to enhance the shelf life and safety of food in the food chain.
"I would like to thank AMI for honouring me with this award which is truly an big moment for me," she said.
"I would like to thank AgResearch for all the opportunities and my team leader who always supported my idea and asked me to move forward despite funding issues. My parents who always supported me to aim high, especially my dad who always encouraged me to ask questions "Why". Last but not the least, my husband Sandeep who would always ask me relevant questions, be positively critical which has helped me a lot of time to think about my science and move in the right direction."
WH Pierce Prize
The WH Pierce Prize was awarded to Joshua Quick of the University of Birmingham, for his research into low-cost amplicon sequencing methods which have been critical in outbreak responses to Ebola, Zika and the Covid19 pandemic in which over 10 million genomes have been sequenced.
Founded in 1984 in memory of the late WH (Bill) Pierce, former Chief Bacteriologist of Oxo Ltd and a long-time member of the Society, the WH Pierce Prize is awarded to a scientist who has used microbiology to make a significant contribution to One Health advancements.
"I am honoured to be awarded the WH Pierce prize and am very grateful to my colleagues for the nomination. It feels amazing to be recognised for this work but clearly I couldn't have done it on my own, so would like to thank past and present collaborators and UKRI and the Wellcome Trust for supporting my fellowship and the ARTIC network project," Joshua said.
Dorothy Jones Prize
The Dorothy Jones Prize was awarded to Davide Bulgarelli, a Senior Lecturer and a Principal Investigator at the University of Dundee, whose research sits at the interface of multiple disciplines, encompassing plant genetics, microbial ecology, and computational biology.
The award, which is named after Dr Dorothy Jones, who served as President of Applied Microbiology International from 1989 to 1991 and was the third female President of the Society, goes to a scientist who has used microbiology to make a significant contribution to our understanding of terrestrial life, rhizospheres and soil microbiomes, or to the preservation of our global ecosystem.
Davide was unable to be present on the night but accepted his prize in a videolink message to guests, saying: "This is important recognition for the efforts my team and I spent in gaining novel insights into the potential contribution of soil microbes to sustainable crop production. This milestone is not the end of journey though - rather it is a starting point motivating us to pursue future scientific challenges."
Product of the Year
The Applied Microbiology Product of the Year Award was presented to California-headquartered Hygiena, for the Innovate Autosampler III, a gamechanging walk-away automatic system which is capable of sampling up to 2,000 product samples per hour.
Accepting the award, Chief Scientific Officer Martin Easter said: "Winning this award is a very proud moment for us all. It will help motivate our hard-working colleagues to continue creating innovative diagnostics for a healthier world, which is our company mission that drives us all."
The highlight of the evening came when Professor Gilmore presented Professor Sir Jonathan Van-Tam MBE with his Honorary Fellowship. In his acceptance speech, the former Deputy Chief Medical Officer issued a stark warning - that while Covid was a once in a political lifetime event, it was not a once in a lifetime event. He then took part in a fascinating Q&A session, with questions delivered by a panel of early careers scientists.